Kitesurf school in Sardinia
Kitesurfing and our didactic method
A sport capable of giving unique emotions that are truly within everyone's reach. Unlike what is common thinking, Kitesurfing is one of the easiest and fastest water sports to learn. Thanks to state-of-the-art, safe and easy-to-use equipment, together with our teaching method, just a few lessons will be enough to be able to make the first glides on the table.
The minimum requirements to access the courses are as follows:
• Know how to swim
• Weigh more than 30Kg
Our teaching is inspired by many years of experience gained in the most demanding and famous spots in the world. Experience that has allowed the FHA team to expand and adapt its teaching method to the different conditions that can be encountered in the various spots. Passion and continuous updating, together with the continuous search for the best materials, are the basis of our work.
We were the first in Italy to introduce the 2016 bluetooth radio systems able to allow our students to not only receive instructions from the instructor, but also to communicate in real time, without leaving the student alone.
Our lessons are all inclusive and include: complete equipment, communication systems, insurance, instructor and rescue.
GFHA instructors are qualified by the best IKO, FIV, VDWS, PASA associations.
Since the 2019 season, our technical team has chosen Core Kiteboarding , a top-of-the-range brand that pays particular attention to the manufacture of materials.
We offer courses for all levels:
Beginner kiter
Basic course of 6 hours, generally organized in 3 lessons of 2 hours each:
Flight theory + kite armor

• Theoretical evaluation of wind, spot, aerodynamics
• Pilot experience with a kite trainer
• Introduction of equipment
• Security systems
• Inflatable Kite piloting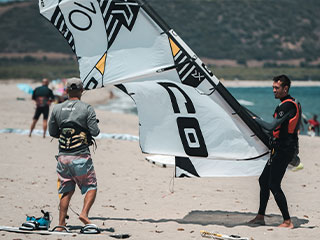 Kite control + Bodydrag

• Theoretical evaluation of wind, spot, aerodynamics
• Pilot experience with a kite trainer
• Introduction of equipment
• Security systems
• Inflatable Kite piloting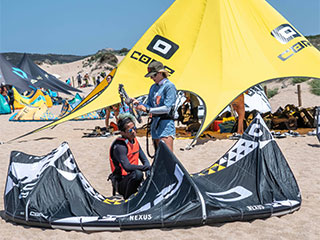 first departures

• Steady-pull
• Introduction of precedence rules
• Water- start
• first navigation
Indipendent Kiter

• upwind sailing
• Change walls
• Toeside
Advanced kiter
Foil

• Start
• Steps
• Change walls
• First navigation
Surf

• Start
• Upwind sailing
• Jibe
• Veer
• Strapless jumps
Twin Tip

• Pop
• Jump
• Rotations
• Unhook