Surf Shop | Technical Clothing | Bike Rental
Surf Shop
Our shop was born from passion and competence of FH Academy. We wanted to select the best products on the market to offer you a unique experience while practicing your favorite action sports.
The Surf Shop offers a wide range of items of all the best brands as regards technical equipment: kites, boards and trapezes, wetsuits and shoes, but also clothing, sunglasses and sports watches, specific sunscreens for sport and much more.
Bike Rental
Not only water sports, but also road, mountain bike and new e-bike muscle models at your disposal. The bicycle rental service is located right in the center of Porto Pollo, the ideal starting point for your bike trips. Our proposal includes several models suitable for all needs: mountain bikes, road bikes and even E-bikes in the front and bi-amortized models. For families with small children we have baby bikes and adaptable seats. A selection of the best tracks in the area is available and guided tours are available on request to discover the most beautiful and characteristic places on the island.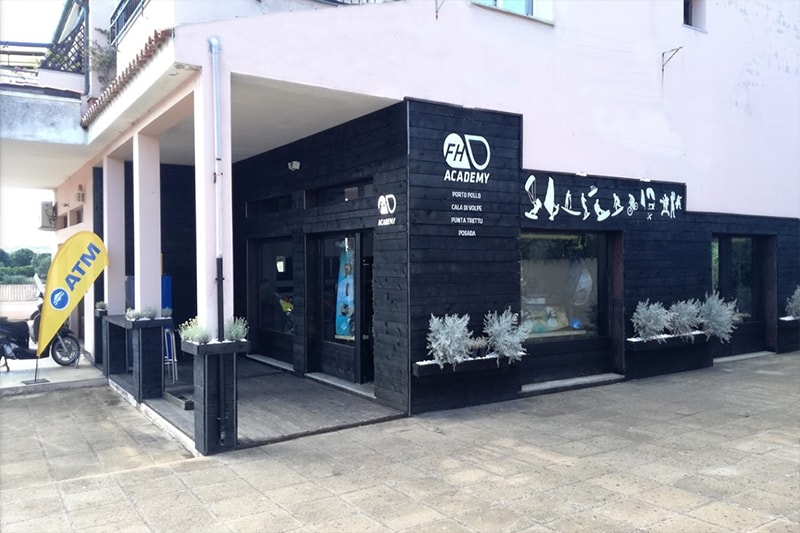 ATM | Bancomat
The only ATM in Porto Pollo is available with us.
Find us in Via Sebastiano Satta 2 - 07020 Palau and we are open seven days a week
(from 09:30am to 01:00pm and from 04:00pm to 07:30pm.)
Giant® & FH Academy
together for a sporty summer on two wheels.
The collaboration between the world leader in the production of bicycles and our school of action sports in Palau to offer customers and enthusiasts from all over the world the opportunity to explore Sardinia on road bikes, muscle and electric mountain bikes among the most innovative in the world.
Via Sebastiano Satta 2
07020 Palau

Email

info@fhacademy.it
Every day 8:30 am - 6:30 pm

Contact

+39 348 9964620
from Monday to Friday 8:30 am - 6:30 pm